The mobile entertainment venue, a midtown fixture for 17 years, is now in Old Sacramento.
By Lance Armstrong, Valley Community Newspapers
Something has been missing from the northeast corner of 22nd and J streets for the past couple months. Those familiar with the weekend scene in this area have noticed the absence of a large, purple truck bearing the words, "Acoustic Sanctuary."
Many people have become acquainted with this entertainment venue on wheels from the inside, while others maintain certain levels of curiosity from afar.
Accompanied with the green, lighted words, "OneManBand" and "Storyteller," and stairs leading up to its purple curtain-covered entrance, this unique roadside attraction has been hard to miss. It had been a fixture of this midtown street corner on Thursday, Friday and Saturdays evenings since 2002.
Inside his mysterious looking vehicle, Sacramento's Harrington King has entertained thousands upon thousands of people with his unique offering as a one-man band that plays about 40 instruments, and can play various instruments at the same time. His act also includes storytelling with a comedic twist.
But now King and his Acoustic Sanctuary can no longer be found at this site. However, any rumors that might exist that King has closed shop and left the entertainment world should be put to rest.
King told the East Sacramento News last week that he simply relocated to Old Sacramento, next to the schoolhouse museum and just east of the Rio City Café and Joe's Crab Shack.
With a golden backdrop of the lighted Tower Bridge, King continues to play music and tell stories every Thursday, Friday and Saturday from 8 p.m. until late.
He is mostly known by his stage name, Winko Ljizz — a name he partially created because he says he was "born with only one eye open." His self-created surname is short for "legitimate jazz."
King explained the reason for his recent relocation.
"I used to tell (the 22nd and J streets property owner Pete Andreotti) that when he retired, I was going to move on," he said. "He finally did retire. After 17 years, I was burned out being there anyway."
The Acoustic Sanctuary shows generally follow a format, King explained.
"Typically, people come in and the last person that comes in the Acoustic Sanctuary is required to pick a random topic — nothing about music and nothing they see in there," he said. "And then when that topic comes out, then we start making fun of it and telling jokes and singing songs about whatever the topic is."
With this format, King's shows are never identical.
King said that for many years, one of his best friends, Rich Borgquist, served as his Ed McMahon — a reference to the former sideman of television's "The Tonight Show Starring Johnny Carson," which ran from 1962 to 1992.
"I call him Richie B.," he said. "He's all thumbs on his smartphone, looking up trivial facts on whatever the topic is (of the show). He'll kind of blurt them out and we'll tell jokes about that."
As a veteran musician, King's experiences in music extend back to his childhood.
His earliest memory of playing music was blowing on his father's French horn in his childhood home in northwest Florida.
"I played that (instrument) through elementary school and junior high and high school and whatnot in the band programs," he said. "I always did (play music). I don't have any memory of not doing it.
"When I first started playing, I didn't look at it as music. It was just this thing that was in my dad's closet and it was as big as I was, and it kind of hooked to my face and I was getting a sound out of it."
King added that at a very young age, he played the piano in his home, as well as the piano in the home of his aunt.
"I learned my ABCs on a piano, and I don't really remember much about it," he said.
His first instrument of his own was a guitar that he received for his seventh birthday.
With his love for playing music, King began performing for audiences in a trio at a Shakey's Pizza Parlor in Pensacola, Florida during his young adult years. It was his first steady gig as a musician.
King recalled his Shakey's Pizza playing days.
"A guy played banjo, his brother played stand-up bass, then there was a piano player that had a heart attack," he said. "I filled in for (that pianist) one night and they go, 'OK, you're in, man.' So, I played with those guys for a little while and then the owner of the Shakey's wanted me to play (in another Shakey's) in Fort Walton Beach, (Florida)."
At that Shakey's, King played piano and banjo for short, silent movies that were projected onto a screen from an 8 mm projector that sat on top of an upright piano. He also ran the projector.
King said that his one-man band performances date back to about 1976.
He noted that he eventually built several piano bars, which he set up and played in various restaurants and a shopping mall in Florida.
King recalled using a trailer for performances, beginning in 1980.
"I made a homemade trailer that opened up on both sides and the roof opened up where I could do outdoor performing," he said. "I pulled that around (with a Ford) van. I did that in Tallahassee, (Florida)." The van also served as his place of residence.
Following King's move to Tampa, Florida in 1981, his van became inoperable after it threw an axle shaft.
He next lived at Skipper's Smokehouse, a then-new music venue, which would become an iconic, world-famous entertainment spot.
In 1984, King left Skipper's and began performing on a covered stage on a flatbed truck.
He quickly discovered that he did not care for that performing format.
King referred to that stage as "too impersonal."
"I'm a storyteller," he said. "You can't really tell a story to a huge crowd."
King said that he later returned to Tallahassee, where he acquired an old, yellow school bus and began performing from a piano bar at the back of the bus.
"We kind of chartered it out for different clubs and different organizations," he said. "It was a party bus, and I lived out of that bus."
These shows would either be performed in a parking lot while the bus was stationary, or someone would drive the bus while King played music.
The bus eventually broke down on a bridge and was hauled to a wrecking yard.
King, who at that point in his life was playing about 20 different musical instruments, returned to Fort Walton Beach. It was in that city where he acquired the truck that he later converted into his present Acoustic Sanctuary performance venue.
That truck, King noted, was sitting on the side of a road with a blown out engine and a "for sale" sign.
King mentioned that his truck is a 1972, former military vehicle, which originally held computer equipment at Eglin Air Force Base in western Florida.
"I think (the computers) controlled missiles," he said. "It was probably conceived of during the Cuban missile crisis in the early 1960s when (John F.) Kennedy was president. I guess what filled that truck (would) now be like a postage stamp in your front pocket."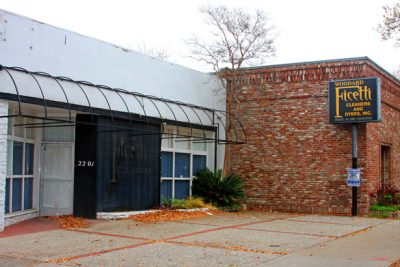 The truck was also extremely slow, King recalled.
"(It) was designed never to get off the military base, so it had a really low-gear rear end," he said. "It wasn't designed to go barely 50 mile per hour. And so, (in 1988), I drove that thing from Florida to Sacramento pulling a car behind it. It had a lot of torque, power to it, but it wouldn't go fast."
King added that due to the vehicle's slow traveling speed, he grew accustomed to seeing middle fingers of motorists who passed him during his cross-country trip.
His move to Sacramento occurred as part of his short-lived marriage to a military servicewoman who was reassigned to McClellan Air Force Base.
After King arrived in Sacramento, it would be a few years before his Acoustic Sanctuary would hit the road.
King performed his first Sacramento gig at a piano bar in Old Sacramento in the late 1980s.
From 1993 to 1995, King ran Beatniks Vegetarian Juice Bar at 1216 20th St.
The business doubled as his one-man band venue, where he played at a piano bar, and also played such instruments as a guitar, a saxophone, a trombone, a standup bass, and percussive instruments. A second piano bar was available for customers to play.
Following the closure of Beatniks, a barbecue restaurant operated in its place, and King began transforming his truck into the Acoustic Sanctuary.
The venue was created with seven seats and can accommodate as many as 10 guests. It also includes a two-person dance floor.
King, who was also a member docent at the California Automobile Museum for about 25 years, recalled introducing the Acoustic Sanctuary to the community in 1995.
"(Old Sacramento is) where I first went after I got out of the restaurant," he said. "I (later) tried various places around Sacramento. I played in the (excess) parking lot of Tower (Records), where Willie's (restaurant) is at 16th and Broadway."
Another one of King's former performing sites was outside of the Art Foundry Gallery at 10th and R streets. He eventually ended up in front of Woodard-Ficetti Cleaners and Dyers at 2201 J St., where the historic "D.R. Woodard Cleaner & Dyer" neon sign hung.
Fast-forwarding 17 years, the property was sold earlier this year, and the Acoustic Sanctuary lives on, with King continuing to entertain guests each week at 1160 Front St. in Old Sacramento.
For additional information about King and his Acoustic Sanctuary, visit the website www.acousticsanctuary.com.
First published by VCN, here.